In a typical month, LA Regional Food Bank provides food to 300,000 adults, seniors and children through our partner agency network and direct distribution programs. We are already experiencing an increased demand for food assistance and expect the demand to continue to increase significantly in the coming weeks.
Yesterday, we utilized two of our Mobile Food Pantry trucks to distribute food to hospitality industry and other workers who have recently been laid off from their jobs -- 640 families showed up and received food assistance! We are holding another distribution today to reach more families impacted by the change in economic conditions.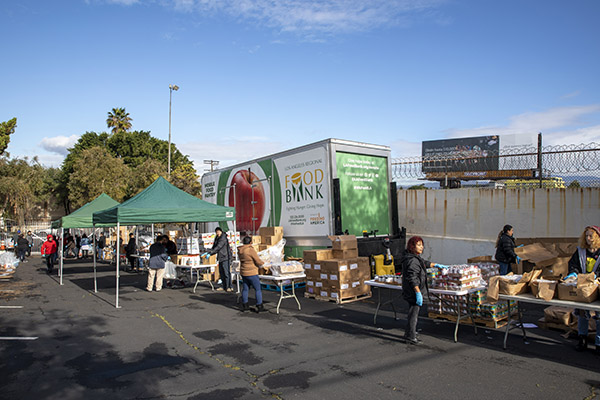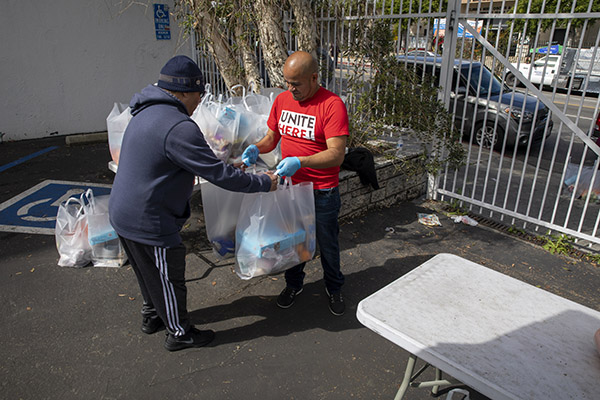 In order to update you on our current status, the Food Bank's two locations (South LA Distribution Center and Commerce Distribution Center) are operating with no significant constraints with the exception of following LA County Department of Public Health guidelines, including for social distancing. For this reason, we are accepting a smaller number of volunteers than usual.
The Food Bank's truck fleet is operating with no constraints throughout LA County but is heavily utilized.
The Food Bank's on hand food inventory totals 11.2 million pounds, the equivalent of roughly 9.3 million meals of shelf-stable, perishable and frozen food items. (For reference, in 2019, the Food Bank distributed 81.8 million pounds of food and grocery products.) We are experiencing some disruption in food donations from our regular food industry donors and are supplementing donated food with food purchases.
Food and other grocery products are distributed through a network of partner agencies and Food Bank direct distribution programs:
To date, 32 partner agency sites out of 900 total sites throughout LA County have reported that they are suspending food distributions, with the majority of the sites being food pantries that distribute groceries to families and individuals. We are encouraging all agencies to remain open and follow all LA County Department of Public Health guidelines, including for social distancing. Food distribution continues to be deemed as an "essential" service by LA County and cities. At this point, our food flow to agencies is continuing with little disruption, and agencies continue to serve families and individuals seeking food assistance.

The Food Bank provides food packages to 28,500 seniors every month at 146 senior centers and other sites throughout LA County. The majority of these distributions are continuing while we are exploring alternatives for home delivery to seniors.

The Food Bank distributes BackPacks of food to children at various LAUSD and Compton Unified schools, and we distribute food through our Children's Breakfast Program and Mobile School Pantry. In addition, we provide weekday After-School meals at youth program sites such as Boys & Girls Clubs. With school closures, these distributions have been significantly disrupted. We are discussing with school districts how we can supplement "Grab & Go" distributions to ensure that children and their families have enough food, especially over the weekend.
The Food Bank continues to be focused on meeting the needs of the community while also ensuring the health of our employees, volunteers and other stakeholders. Thank you for your continued commitment to our work!